Goud: vooruitzichten komende week.......
Intro:
Gold prices could rise next week, building on gains posted on Friday, with some market watchers suggesting the yellow metal may test the upper end of the current trading range, which tops out around $1,640 an ounce.
Volledige analyse:
Those market watchers who see higher prices said it's likely gold will only rise to about $1,630, an area it hasn't bested since etching the upper band of the trading range, which extends from $1,550 to $1,640.

Prices were up on the day and mixed the week. The most-active December gold contract on the Comex division of the New York Mercantile Exchange settled at $1,618, down 0.83% on the week. September silver settled at $27.801 an ounce, up 1.1% on the week.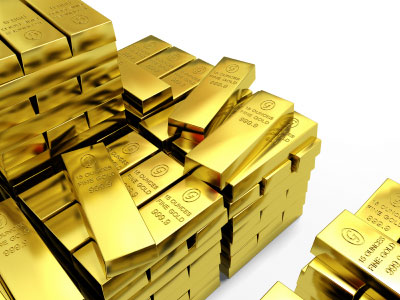 In the Kitco gold survey, out of 32 participants, 21 responded this week. Of those 21 participants, 12 see prices up, while four see prices down, and five are neutral or see prices moving sideways. Market participants include bullion dealers, investment banks,
futures
traders, money managers and technical-chart analysts.
Prices rose on Friday, supported by a broad-based rally that lifted equities and commodities after a surprisingly strong U.S. employment figure for July. The Bureau of Labor statistics said 163,000 jobs were created last month, far above the consensus of 100,000. The unemployment rate notched up to 8.3% from 8.2%.
Daniel Pavilonis, senior commodities broker, RJO
Futures
said the strength in gold Friday suggested it was trading as a risk asset, rather than a safe haven, given it was rallying along with equities again. "The risk trade is back on. And with the technical side looking good, you could see some fund buying here," he said.
Pavilonis said gold's technical chart patterns suggest a possible rally. "It looks like technically that it has been building a bottom for the past 11 months, a triangle pattern, as it stays over $1,600 (generally)," he said.
Gold prices could rise into next week, with the market likely to test resistance at $1,630, he said, a level it has not been able to take out. Beyond that is resistance at the top of the current range at $1,640. If it can move above there "then it's off to the races," Pavilonis said.
Precious metals recouped some of the losses they sustained after the
Federal
Reserve and European Central Bank decided to stand pat on monetary policy and not offer anything to stimulate their economies. Many analysts took that as a sign that the central banks might wait until September to inject liquidity.
Gold traders were "clearly disappointed," said Austin Kiddle, analyst at Sharps Pixley, when the ECB President Mario Draghi did not follow up comments last week that the central bank would do "whatever it takes" to save the Europe.
Draghi suggested that "the ECB would purchase government bonds along with the European rescue fund. In the next few weeks and months, gold prices will be affected by how well the ECB will carry out these measures, and whether a closer fiscal integration and a banking union can be fostered," Kiddle said.
Bob Tebbutt, an independent analyst who runs the website mr-commodities.ca, took another view of the central banks moves. "For a long time we've looked at it as the glass half-empty, but maybe now we're starting to look at it as the glass is half-full. While the Fed, the BOE (Bank of England) and ECB indicated they're not totally satisfied, they were reluctant to act," he said.
Tebbutt said some of the industrial commodities markets like copper and crude oil may be pointing to steadier economy. "Copper has moved sideways for the past two month; in crude oil, the chart patterns are looking good. Brent crude oil was at a low of $88.90 (a barrel) on June 21 and now is trading around $106. Part of its concern over Iran, but if the demand wasn't there, crude oil would be weaker," he said.
Technical charts for gold and silver suggest further room to climb, he said. But, he added, he's not yet ready to buy. "Watch it closely. We need to break above resistance. But what we need for gold to rally is inflation and right now there isn't any inflation," Tebbutt said.
Looking ahead to next week, performance bonds needed to trade silver and the platinum group metals will be lowered, the CME Group said late Thursday. That may help to attract more activity to those markets as the lower performance bonds, also known as margins, means traders need to put up less money for collateral in order to trade those markets.
By Debbie Carlson